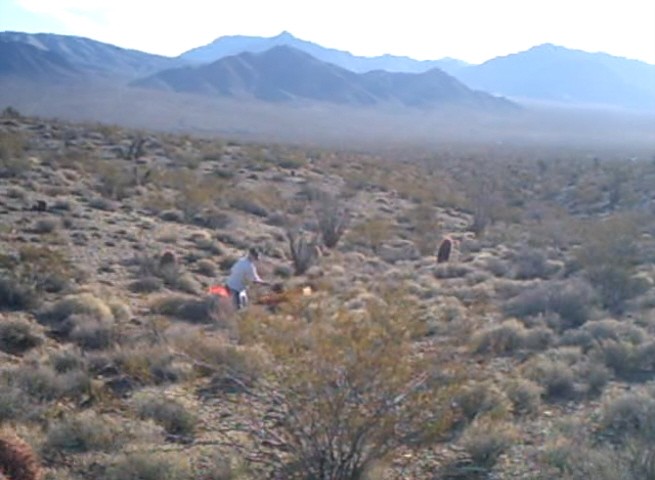 Gold Prospecting
Welcome! This page is dedicated to the hobby of gold prospecting. Some thirty-five years ago my wife and myself caught gold fever. Back then gold was around $250 an ounce and then leaped to around $850. Living in Las Vegas, we were close to Arizona and the Colorado river where gold is known to be found, so we bought, and made gold recovery equipment to go pursue our new hobby.
By doing a little reading and a lot of hard work, with some luck we were able to find some flake gold, and a small nugget. It was a fun hobby, but times changed and we found we had to sell the dry washer, dredge, and homemade rocker box to make ends meet. Well, times have changed again, the kids are grown, and we have decided to put a few gold tools together, and go back to the future. We joined two prospecting clubs as to make sure we were not prospecting on private land or someone's claim, and set off on a continuing adventure. Join us as we put together a few homemade tools, buy a few more (technology has really improved), and go gold prospecting Gold Basin, and Lost Basin, AZ, once more.
Note: Posts are in order newest to oldest. Therefore trip One is closer to the bottom.
Steve's Drywasher Goes To Work
The Arizona Desert is getting much hotter now that summer is here, so we took a cloudy-day opportunity to get some dirt for our summer break. During the hot summer months we decided to take a break from the heat and rattle snakes, and do some panning of concentrates at home. I am sure that we will run out of dirt before summer is over, but at least we will have some to do.
We decided to take the drywasher out this time. I had been working on it for a few months after I finished my trommel. It was time to put it to work after all of the kinks had been worked out at home. It has only six riffles but they do find some very tiny gold — usually no more than the first or second riffle. The real trick to working a drywasher is in the feeding of the dirt to the riffles and the screening of the largest rocks.
I like to screen my dirt by hand down to an 1/8 in. and use my metal detector to check the larger screened out material for nuggets. As yet I still have not found any nuggets of any size. I removed the screen from my drywasher so I am able to dump my material in easier. Learning how to properly use the drywasher builds confidence. I tested my confidence on some other prospector's old tailing, and when I was finding flour gold, I knew mine must be working fine. Heck, I even checked my tailings just to make sure I was not leaving anything behind. I wasn't! Watch the short video below of our last outing, until this Fall when we return to prospecting.
The Homemade Mini-Trommel Revisited
It is true that when mining for gold, the more dirt that can be processed the more gold you will get. It is also true the larger the mining operation becomes, the larger the expenses become as well. Knowing this I decided to build my own mini-trommel. I always wanted more and larger equipment in all my prospecting work, but the expense always outweighed the small amount of gold I was finding. It was a bit similar to the show "Gold Rush." Therefore, I went small and decided to build some equipment myself.
This video is for all of the prospectors that build some of their equipment. Although it is not detailed very well, it should still provide some ideas to those wanting to build a small homemade trommel that works. After all, if it does not work then it will not help to classify more dirt faster, and is a waste of time and money. Mine works, and when the dirt is damp and the drywasher is losing gold, the trommel is the star of my prospecting hobby.
NOTE: The video below is long—about 30 minute.

Gold Basin Gold Dirt Panned
In continuing with our prospecting search of knowledge we were curious about the Gold Basin gold dirt that
a local vendor was selling. Having found a few flakes ourselves, and still not having found a "pay streak", our curiosity got the best of us so we bought some gold dirt locally to compare our hard work to a much easier attained solution for gold fever. We did not expect any pickers or nuggets as they seem as elusive as the Lock Ness Monster, at least for us. Maybe a few small and smaller flakes were all we expected.
Therefore, tossing the idea of exercise and large gold out with the overburden, we found ourselves with two 2.4 ounce bags of honest-to-goodness Gold Basin gold concentrate. We planned our panning session and made sure it was a nice day (except for the wind), and went to business on two very nicely wrapped gold pouches. We borrowed a finishing pan that we used to pan one bag, and the other went into the little black pan that my wife is so fond of using—and very good at using it as well. The results were tallied in the little black pan for the camera. Needless to say, we were quite impressed. Geese, if we could only do that much in every pan! The video is below with all the wind noise, and I make apologies for that now.
Breaking Caliche
Out we go again to Gold Basin to get some more fine gold. We are finding small flakes, but have yet to hit a pay streak. No bragging rights yet! Not even a tiny picker, just fly poop as some people call the small stuff. This time out we continued our previous dig following the wash channel that Mother Nature provided. I was kind of concerned that having previously cleaned the inside bends that maybe we should be sweeping the false bedrock known as caliche.
Caliche pronounced (KA LEE CHEE) is a calcium carbonate hardened sedimentary type of rock that is formed over many years. The moisture in the soil settles and hardens with the calcium carbonate and other gravels to form a concrete like floor. Caliche can be 3 feet thick in places and a jack hammer is the recommended tool for removal. In other places it may only be a foot thick. We often wondered if there was any gold underneath it so we took a tool to break some of it up to see.
Having gathered a few buckets of dirt and swept the caliche we attempted to break through some of it to see what is there. We take some of the stuff home to break up and pan as well but find nothing in the pans. It seems the gold is in the dirt on top of the caliche. The short video is below.
Gold Prospecting Club First Trip–New Area
Well, having joined the MPA (Mohave Prospectors Club), we finally caught a day to go with some other newbies, and some seasoned veterans to prospect one of the clubs other claims. Everyone met at the defined place according to the monthly newsletter. It was a Sunday, and we had about 7 hours before duties called us back home. It would sure be nice to have more time for this hobby—someday.
We followed a parade of ten or so four wheel drive vehicles over some very rough road. There was a Jeep pulling a trailer that was packed neatly with a trommel, and all sorts of equipment needed to work the beauty including two or three 30 gallon water barrels. From ¾ ton to ½ ton 4 wheel drive trucks carrying ATVs, dry washers, and sorted panning equipment; it seemed nothing was left behind for this gold hunt.
My wife and me followed last in line and were wondering whether our little Honda Element would survive the trek. Alas, it is all wheel drive with all terrain tires, and that provided some comfort as we picked our way over the sharp rocks, and washboard road that cut through the hills and washes common to the Gold Basin Area. The little Element managed to keep up with the big dogs, and soon we arrived at our destination.
The club spokesperson pointed out the claims boundaries and explained common etiquette that was expected from its members. As you might imagine, some gold stories were related about this claim and that only added to the excitement of the day. Finally, we were turned loose and reminded that there was a tow rope available should the need arise. My wife and I did not do any socializing, although we wanted to. I guess meetings are for that, for now—there was gold to find.
Watch the video.
Goin Fer The Gold—The Third Trip
Well, there is no denying "Gold Fever," so we packed up the mini highbanker, tubs, wagon, shovels, batteries, and various hand tools and headed out to a new spot in the desert. Oh, and I forgot to mention 40 gallons of water in 5 gallon buckets. After joining the MPA (Mohave Prospectors Association), the urge to try out a new claim was undeniable. The latest trip would put us in Gold Basin, Arizona about 1.5 miles higher in the mountains than our first prospecting trip did.
They say once you find gold that you are no longer a prospector, but that you are now a miner. Well, that metamorphosis is not quite true. Unless you are happy with what you are finding, and who would not like to find more, and if you still want to find a better pay streak, then a prospector you may well still be. Most likely, my wife and I may well be prospectors till we cannot prospect no more.
Therefore, we prospected ourselves to a newer location and set up a mini highbanker. We found a somewhat small wash that seemed to be overlooked, as there were no signs of any mining activity (prospecting?), and began hauling dirt to the highbanker location. We ran some dirt and took some home to test the mini recirculating trommel that I am building. The dirt was producing gold, the day was nice, and the new spot was looking good!
Check out the video of our short prospecting trip.
Steve's Homemade Mini-Gold Trommel
I built a homemade mini trommel over the course of three months with materials I had laying around, and a few that I did not. This was no easy task, and lots of trial and error work went into its construction. Alas,  it is functional but I make improvements as the need arises. I fully intended for the trommel to be used in a desert environment with a water recirculating system. With such use, as one might imagine, water leaks are frowned upon, and so I redesign to save water as may be evident in future videos. Enjoy the short video of my trommel test!
Our Second Dirt Gathering Trip.
On this, our second trip, we take our screens out to a GPAA claim in Lost Basin. Lost Basin is host to the King Tut Mine that was producing placer gold in the 1930's. Around this area was where we found our first nugget in the late 1970's. It was an overcast day and pretty chilly work, but the diggings were easy to get to by vehicle, and it turned out to be quite an enjoyable outing. I only wish I had remembered to turn the camera on a bit earlier and make a better video of this trip. I guess we were just caught up in that gold fever moment where nothing else is on your mind.
Out To Gold Basin Our First Trip
We go on our first trip back. We will be trying out our homemade grizzly screens. We have made
three of them with sizes for 1/2, 1/4, and 1/8 inch gravel. All of these screens were made using 5 gallon buckets. On this trip we took water with us to use in a recirculating process for screening the dirt. Later we found that the dirt screens just as well without using water, albeit with a lot more dust.